ALTERATION SERVICE
Master Tailor Dawei has over 40 years experience in the fashion and apparel industry, and is an expert in tailoring and pattern making. After moving to its current location in Chippendale, Veracity Tailor has provided an expert level of alterations service to the inner west, and general Sydney area.
Veracity Tailor specialises in high quality clothing alteration services for that perfect fit. Whether it's that off-the-shelf garment that needs a small adjustment, or your body changed over the summer, Veracity Tailor can ensure your clothes fit perfectly - making you feel good and look great.
If you have a request that no other alteration shop will take, chances are, Master Tailor Dawei will be able to do it. Call or email us for a quote today!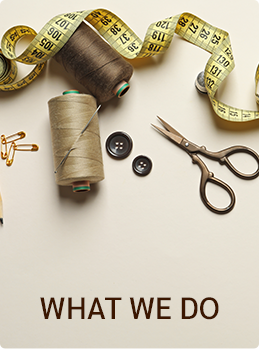 SHORTENING
If you need that favourite pair of jeans to be shortened, whilst retaining its original hem, just come to our studio. Our Master Tailor can guarantee all your clothes will be shortened keeping to its original style.
LENGTHENING
We can lengthen your garments by adding a false hem to extend its length. If your pants or shirt shrunk after a wash, or simply needs an extra inch, come talk to our tailors.
TAKE IN
Lost weight recently, and all your clothes became too loose? We can help you take them in for a perfect fit. Found the perfect suit, but the style is a little too boxy? We can take it in for a fitted look!
LET OUT
Your brand new pants are perfectly in style, but a bit tight at the waist. We may be able to help. Please come in to our studio and let our master tailor have a look!
REPLACE ZIP
We can fix a broken zip or replace it if necessary. We will endeavour to match the existing style and colour of your current zipper.
REPAIR
Veracity Tailor can repair a ripped seam, fix a shoulder pad, resew buttons, hooks and any other fasteners. If your favourite pair of jeans are torn, we can make repairs to give them a new lease on life!
RE-LINE
Just because you suit jacket has a worn lining, doesn't mean you have to throw it away. We can replace the lining for you, make it look as good as new!
ALTERATION PRICE LIST
Jeans and Trousers Price*
Shorten / Lengthen (without cuffs) $20
Shorten / Lengthen (with cuffs or original hem) $35
Take in / Let out waist $30
Slim fit pants $30 - $50
Replace zip $30
Shirts
Shorten / Lengthen sleeves $30
Move shirt pocket $20
Shorten hem $30
Slim fit shirt $25 - $40
Jackets and Coats
Shorten / Lengthen sleeves $60
Shorten hem $65
Slim fit jacket / coat $60 - $80
Replace lining $120 - $150
Skirts and Dresses
Shorten / Lengthen hem (one layer)$60
Take in / Let out waist $30
Replace zip $30
Shorten straps $30
Slim fit skirts / dresses $50 - $80
*Price may vary based on fabric, garment style or label